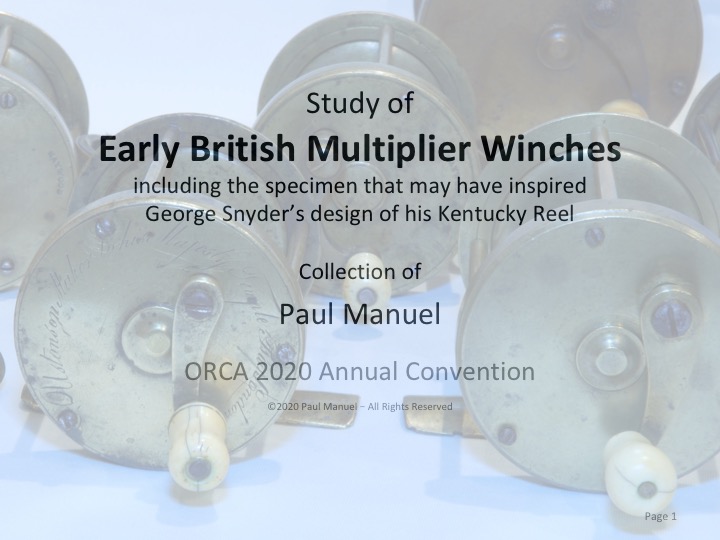 My pictures, comments and findings are presented in a Powerpoint presentation, a white paper and a sortable spreadsheet. Lower resolution images of the presentation can be seen below. Group images are shown in the first set of slides. Slides with details for each reel are shown in the section after the write-up.
Hint
: Click on the first slide then start the slide show by clicking the little arrow that appears at top right.
During the Convention, the original higher resolution Powerpoint file, spreadsheet and white paper can be downloaded from my Dropbox
HERE:
(Edit: Full size pictures of the reels/guts have been added to the same Dropbox).
I hope you enjoy looking at the old reels I selected to display and the supporting information I have included in this presentation. Feel free to comment or ask questions. If you have thoughts about the makers of the unmarked reels please let me know!
Paul Manuel
ORCA Member since 2006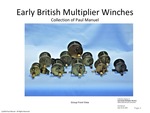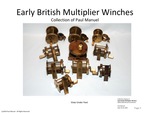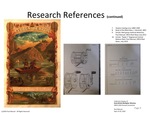 Study of Early British Multiplier Winches including the specimen that may have inspired George Snyder's design of his Kentucky Reel

Collection of Paul Manuel - 2020 ORCA National Convention Display

When I started collecting old fishing reels, I didn't know what I was getting into. One night in the 1970's I went to a meeting of the local Isaak Walton Fly Fishing Club. Instead of the usual fly tying instruction, the guest speaker gave a presentation about his collection of antique fishing reels and I got the urge to find some for myself. A few years later I came across some very early brass winches in an antique market and bought them. I have always liked the look and mystique of early brass reels and acquired many specimens over the years. My search for the background information on a brass fisherman scene reel by Heaton is what drew me to ORCA. Over time, my interest in old brass started to go beyond simple single-action winches and early fly reels. I started to look for clamp footed brass reels; reels with ivory grasps and folding handle reels. At some point, I realized that early multiplying winches added yet another dimension to my collection.

I have managed to collect a good number of early British multipliers as shown in my display, including a rare and "famous" multiplier by Onesimus Ustonson (Circa 1800) marked "Ustonson Maker to his Majesty Temple Bar London". The historical context of this Ustonson reel was very well documented by Frank M Stewart III in a March /April 1984 article in Antique Angler where he states that this specific reel was found in an antique store within 60 miles of Paris, Ky. This is where George Snyder was making the earliest Kentucky reels with design features seen on this particular Ustonson reel. This Ustonson reel is uniquely identifiable by the unusual marks on the replaced foot and other aspects. This reel is "famous" because, in addition to the Stewart article, it also appears in several reel collector books, at least including Fishing Reel makers of Kentucky (Vernon & Stewart), Fishing Tackle -The Ultimate Collectors Guide (Turner), as well as A Treasury of Reels (AMFF/Brown)- all shown as part of this display.

Whether Ustonson made this reel or any reels is a controversy that we may never solve. My collection includes an unmarked reel that is very similar. Perhaps Ustonson was putting his name on trade reels. However, the action of the Ustonson mechanism in my specimen is smooth and exquisite compared to the other British multipliers in my collection and only exceeded by later Kentucky reels of Milam and Meek that are also in my collection. Ustonson may have very well made this early reel.

I have opened all of my antique British multipliers and documented the gearing, latches, and pinning. Please refer to my Convention Display and presentation with pictures and details. Several multipliers in my display are unmarked. The Ustonson is marked and some are marked Haywood and H*R (Haywood & Ryder). A few have internal "artisan" marks as seen on Heaton reels. All are made of brass and 80% have ivory grasps as observed under black-light. Some have flat feet and several have clamps. All reels in this group have their handles mounted at 2 o'clock. At least one of the reels in this display is very rare, possibly the source of inspiration to George Snyder for his Kentucky reel. (I have a circa 1890-1900 Heaton catalog cut showing a "Kentucky Reel". British multipliers may have inspired the design of Kentucky reels that were subsequently copied by British maker Heaton and possibly others. How ironic!

FINDINGS:

By reviewing the mechanical details of this wide variety of British multipliers I noticed a few new details. All of the cranks are in the 2 o'clock position (assuming foot is oriented downwards). All of the models with rim controls use them for stopping the spool, accomplished by pushing a spring-loaded pin into a hole on one of the spool flanges. While it is known that some Heaton reels contain internal "artisan Marks" to numerically match parts of a reel, I found similar marks in a reel marked Haywood maker. Who was making reels for whom? I was able to compare reels marked Haywood to a H*R (Haywood & Ryder) model. In my opinion, the H*R model is less refined and would have cost less to make. The reel marked Ustonson has a significantly more refined mechanism and clicker compared to almost all reels except for a trade version of a very similar reel. The reel marked Ustonson is the only reel in this group where pillar alignment scribe lines appear on both sides of the inner side plate. (Note that "fake" antique brass winches can be easily spotted by checking to see if the pillars line up with the pillar alignment scribe line, regardless of the surface that is marked. Examples seen in online auctions use the scribe line as a cosmetic treatment instead of a point of reference for accurate manufacturing. If the pillars are not in line with the scribe line you can assume the reel is intended to deceive the buyer.)

Beauty is in the eye of the beholder but I think antique brass reels are ubiquitously beautiful collectibles, especially the specimens with centuries-old patina! I love them and I hope you do too!

Paul Manuel
Toronto, Canada
ORCA member since 2006

Sept. 14, 2020
(c)2020 Paul Manuel - All Rights Reserved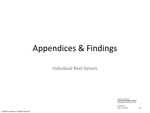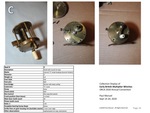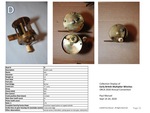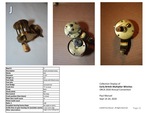 Thanks for looking. Feel free to comment or ask questions.