Julius Vom Hofe's "President" Reel (December 20, 1892 Patent)
Julius Vom Hofe of Brooklyn, New York applied for a patent on July 20, 1892 for an invention that "consists of a fishing reel of the ordinary external appearance, but so constructed that in a few seconds of time and without the use of any tools can replace or remove the spool in operative position and condition in the frame of the reel." The patent was granted on December 20, 1892 (Pat. No. 488,408). Vom Hofe in this patent wanted to develop a way to expose the reel for lubrication and cleaning without the need to remove several screws. He felt that the "operation is so troublesome, and all together beyond the mechanical skill of most of the users of such articles, that it is seldom attempted." He wanted the owner and angler of the reel to maintain it and reduce the number of times a reel must be returned to the manufacturer. He did not want the angler to neglect the reel, but to keep it lubricated and clean. Thus, Vom Hofe designed a reel that you could take apart without any tools and do the necessary maintenance yourself.
President Reel: What makes the Julius Vom Hofe President reel so special? It is designed so the angler can easily take the reel apart without any tool. You just loosen the thumb screw (knurled knob) on the back plate and the reel comes apart. On the front plate the center shaft is treaded into the receiving end. That holds the back-plate thumb screw in place. The shaft runs through the spool arbor and hold the reel together when screwed into the threaded cap at the front plate. By taking the reel apart, it allows for easy cleaning and the lubrication of the reel. The Vom Hofe patent made it easy for the angler to take apart and not have to worry about losing screws in the process.
The reel came in nickel plating and hard rubber and German silver and hard rubber. It had round and raised pillar styles. The raised pillars were square raised pillars, somewhat different than your normal raised pillar reels. The reels were available in 60 yards, 100 yards, 200 yards and 300 yards.
President reel taken apart by simply loosening the thumb screw on the back plate.
Model1 on the left and Model 2 on the right. Both reels are identical except for the foot size. No. 1 has a 3 inch foot size. No. 2 has a 2 6/16 inch foot size. Both are 200 yard reels.
German silver Model 3 President reel. This is a 100 yard size reel. Photo by Ron Gast.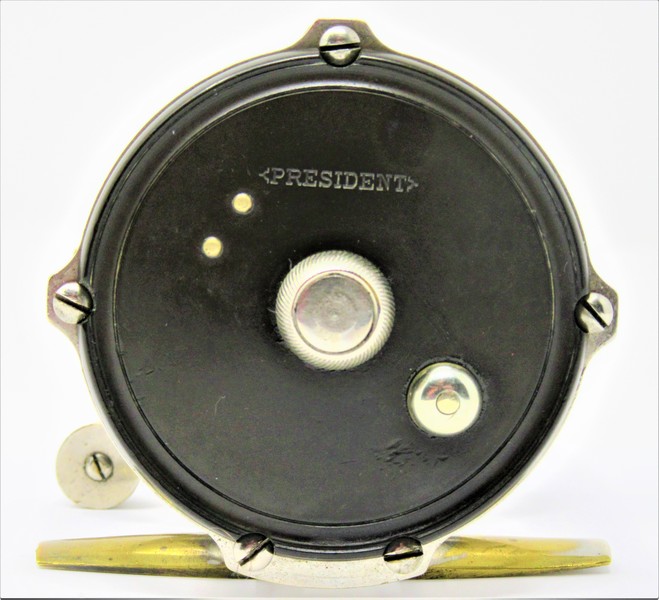 Back Plate of President Reel
Model 4 President 60 yard reel. Round pillar style. Picture courtesy from Lang's Auction.
Model 2/0 300 yard size reel.