ORCA members receive a discounted price, as posted. Reels will be sold on a first come, first serve basis.
To purchase reels, send email to
DavidLehmann0307@gmail.com
. Your email must include:
• The reels you wish to purchase (by reel #)
• Your name and whether or not you are a current ORCA member
• Your shipping address.
You will be contacted within 24 hours with confirmation of the reels that are available, the amount due (reel cost and shipping fee), and payment instructions.
The shipping fee will be the actual cost of Priority Mail and $1 per packed box for shipping materials.
#6 Ocean City St. Lucie (No. 979): Bakelite and chromium-plated brass with star drag and free-spool, 100 yards. Exc in light and dark blue checkered box with warranty and parts list. $25 (ORCA) $30 (others)
#8 Early Shakespeare Universals: 1) circa 1906 No. 2 80 Yd Quad, VG. 2) 23038 (100 yd), 1910 model, VG. Both look good and function well. Minor plating wear. $50 (ORCA) $60 (others)
#11 Ocean City Topsail (No. 940): Bakelite and chromium-plated brass with star drag, handle control lever, and removable levelwind, 100 yard. Unused (but has line on spool) in light and dark blue checkered box with warranty and parts list. $25 (ORCA) $30 (others)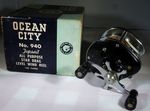 #16 Penn No. 85, bulbous wood handle knob. Early! VG. $13 (ORCA) $16 (others)
#19 All Coast Free Spool, 250 yd., star drag, gun metal finish, 1930's Ocean City (?) trade reel. $13 (ORCA) $16 (others)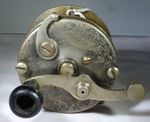 #27 Penn No. 155 (Beachmaster, 175 yd), red mottled torpedo handle knob, Exc+ $13 (ORCA) $16 (others)
#32 Penn No. 285 Delmar, cream torpedo handle knob, Exc+ $13 (ORCA) $16 (others)
#36 Penn No. 85, conical white conical handle knob, Exc $13 (ORCA) $16 (others)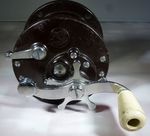 #39 Penn No. 85, conical red conical handle knob, Exc- $13 (ORCA) $16 (others)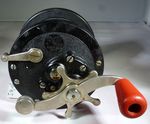 #44 Lamson 4 (1st Version) with good line and backing. Nice steelhead/salmon reel, strong VG+ due to a few minor tailplate dings, in James Scott neoprene pouch. $65 (ORCA) $75 (others)
#45 Abel Super 12W Spool (only) with nice line and backing. Looks unusued in Abel pouch. Retails for $600 from Abel. $300 (ORCA) $325 (others)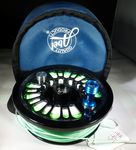 #46 Orvis CFO V. Saltwater CFO. Nice bonefish reel!, strong Exc- due to minor tailplate edge wear. With line and backing in Orvis neoprene pouch. $250 (ORCA) $275 (others)
#47 Orvis SSS 6-7 D-Drive, Exc+ with good line and backing in nice fitted Orvis canvas and leather soft case. $175 (ORCA) $200 (others)
#48 Orvis DXR 5/6, Exc. with good line and backing in Orvis neoprene pouch. $150 (ORCA) $165 (others)
#50 Fin Nor Direct Drive No 4, Exc+. $200 (ORCA) $240 (others)
#51 Fenwick Class 8, world-class anti-reverse tarpon reel with ultra-smooth drag. Incredible fly reel. Exc+. $400 (ORCA) $450 (others)
#52 Abu Double fly reel, strong VG+. $50 (ORCA) $60 (others)
#53 Pflueger Supreme 577 anti-reverse fly reel. Incredible drag. One of the best fish-fighting medium saltwater fly reels ever made. Exc, due to a bit of line dressing that has run onto reel frame. Easily cleaned. $60 (ORCA) $75 (others)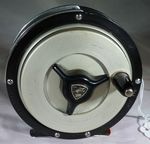 #55 Farlow "The Grenaby", 3.5", VG+. $40 (ORCA) $45 (others)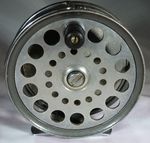 #56 Meisselbach Rainbow 631, strong VG+. $35 (ORCA) $40 (others)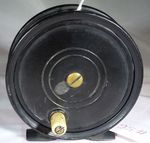 #58 Bristol 65, VG+ and Hawthorne 60-6430 in Exc. Hawthorne is a neat reel with adjustable drag, line-weight selection set, and sliding click. $20 (ORCA) $25 (others)
#60 Pflueger Gem 2094 in VG+, Gem 2095 in Exc-, and Gem 2095 in VG. $40 (ORCA) $50 (others)
#65 Pflueger 1944, shiny brass, Exc. $15 (ORCA) $20 (others)
#82 Abu Ambassadeur 5000C, big "A", 127100 on smooth foot, VG due to some rubs on edges of tail- and faceplate. Still, a tougher reel to find. $35 (ORCA) $45 (others)
#83 Abu Ambassadeur 6000C, big "A", 117100 on smooth foot, VG- due to some rubs on edges of tail- and faceplate. Still, a tougher reel to find. $35 (ORCA) $45 (others)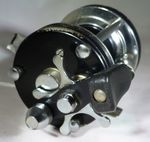 #85 Pflueger Ohio 1978, star drag freespool, VG. $10 (ORCA) $12 (others)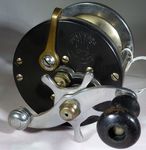 #86 Pflueger Everlaster 2018, 250 yd, npb and hard rubber, small hole in tailplate (click position may have been moved). Cool, intricate wood and aluminum thumb brake. VG. $15 (ORCA) $20 (others)
#89 Pflueger Sea-Vue 2048, star drag, freespool, mechanical thumber, VG+ to Exc-. $13 (ORCA) $16 (others)
#91 Pflueger Oceanic, 2818, 250 yard, nickel-plated brass and hard rubber, free spool, VG+. $15 (ORCA) $20 (others)
#92 Pflueger Oceanic, 2859, 300 yard, German silver and hard rubber, free spool, leather thumb brake, great patina, heavy-duty period after-market German-silver foot that looks great, VG+. $30 (ORCA) $37 (others)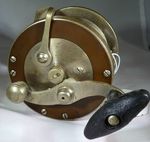 #94 Pflueger 4-Brothers Pontiac 357, 200 yd take-apart bay reel, nice gun-metal finish, VG+ to Exc-. $15 (ORCA) $20 (others)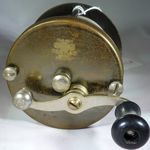 #95 Pflueger Interocean 1885, nickel-plated brass and Bakelite, freespool, thumb brake, looks unused, Exc to Exc+. $20 (ORCA) $25 (others)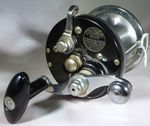 #96 Pflueger Interocean 1885, German silver and Bakelite, freespool, thumb brake, great patina, missing end cap on faceplate, otherwise strong Exc. $20 (ORCA) $25 (others)
#97 Pflueger Interocean 1889 (biggest size), German silver and Bakelite, freespool, thumb brake, great patina, Exc. $30 (ORCA) $40 (others)
#98 Pflueger Capital 1985, star drag, freespool, one foot screw has been replaced with heavy duty brass riviet; great and substantial after-market mechanical thumber marked "PAT APLD FOR", VG+. $30 (ORCA) $35 (others)