This Altapac 6/0 is a work in progress. It is from the collection of ORCA member Jim Wilson who passed away in April. I spent several hours today soaking and de-gunking. I still have to work on the rubber sideplates. They have chips along the rims and mild UV damage but no severe issues. I thought the engine finish inside the side plates was pretty and worth a preview pic.
I was able to apply several tips covered in the 2018 ORCA Convention Restoration Workshop that helped me to more easily remove grime caked screw heads without new damage and to remove a couple of stuck pillars without damage. (If you weren't at the workshop, get the video when it is released.)
This reel had a large wooden arbor that came off easily in 2 pieces. I wonder if that was home made? The reel was loaded with copper braid. Since it probably came out of Ontario cottage country, it would have been used for freshwater trolling.
Before: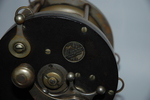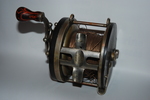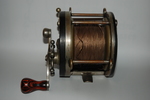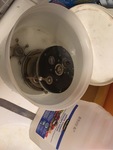 In process:
I will add pics when I get further along.