Good replacement ones can't be found in many cases,this one is for an old j.c.higgins.
This one had .018 out of round in the level wind hole. the l.w. screw was still in good condition, .200 dia.is a standard size on many of those.
the guide is held in a precision vise on a mini mill, hole indicated in, and plunge cut with a 7/32 end mill,this trues up the hole and a thin wall bushing is turned in the lathe and pressed in.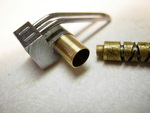 back in the mill the pawl hole is indicated in, bushing is center drilled, drilled to 11/64 and reamed with a 3/16 reamer which is pawl hole dia.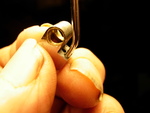 the reel also had a broken off foot pillar,that was repaired by drilling and pressing in a new end and drilling and tapping for the 2-56 plate screw.