Super Board Poster
Posts: 999
Joined: Sat Aug 15, 2009 7:46 am
Location: Virginia Beach
Contact:
Beautiful pictures, Mark. You can just about see the fish lurking around there. Is it easy to wade?
Wayne Benson
ORCA Member, 2009
Waynesreelcollectibles.weebly.com
---
Ultra Board Poster
Posts: 2294
Joined: Fri Nov 09, 2012 10:42 am
Location: S.F. Bay Area ORCA MEMBER
Wayne,
Not this time of year (it's likely roaring out of control), but later yes.
---
Super Board Poster
Posts: 706
Joined: Tue Nov 25, 2003 10:11 am
Location: Florida
Contact:
Currently I am loving the near shore fishing right here in my back yard, Jupiter Florida. We head out of the Jupiter Inlet and run north up the beach toward Hobe Sound in 3 to 17 feet of water when the ocean is flat staying within 200 or 300 yards of shore. Jupiter is as close to the clear waters of the Gulf Stream as it gets and the Stream is constantly pumping its clean, clear water into the near shore waters along the beach. When the water is gin clear and the sun is up, the conditions for sight fishing are at their finest. We run the beach looking for schools of bait, suspicious wakes, rolling or finning fish or anything else that appears "fishy". When the sun is behind you it lights up the water when it reflects off the bottom making the fish easy to spot. During different times of the year you will find schools of large permit, tarpon, snook, giant jack crevalle, cobia, bluefish, and pompano just to name a few. In the winter you get the migration of spinner sharks that school up and head north within 100 yards of shore. When hooked these sharks repeatedly leap from the water and spin like a top putting on a great aerial show and in the process they scare the curious snowbirds out of the water and back up onto the beach. In the winter we also have the Spanish Mackerel run, they come by the thousands to pay us a visit. In October we have the mullet run where tens of thousands of mullet school up and migrate south along the beach where they are closely followed by sharks, tarpon and other top level predators that cut through their schools like a knife causing the water to explode as they eat their fill. These schools get so thick with mullet that you could almost walk back to shore on their backs.
Epic drone footage of sharks and tarpon feasting during the mullet run -
https://www.youtube.com/watch?v=zA5mn423F9g
Dan Kleiser and I fishing the mullet run -
39 pound permit -
50 pound cobia -
English Edward vom Hofe collector Steve Brown with big jack crevalle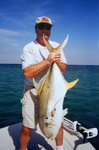 My son Dave with an appropriately sized jack -
And perhaps what Jupiter is best known for, SNOOK FISHING!
There is never a dull moment near shore, just ask this pair of mating green turtles.
Ed Pritchard
ORCA Charter Member
"First Paid Member"
Honorary Life Member
"Reels As Big As Your Head"
Always looking for
BIG
game reels and anything else that might go along.
http://www.AntiqueFishingReels.com
---