I didn't get much time to fish this year, working long hours and a lot of extra days at my new job at the daily where I live on the North Shore of Massachusetts. I finally carved out some time off, here in the first week of December. December isn't known as the ideal time to fly fish for trout (more likely a good time to think about ice fishing). But trout season never closes in the Bay State, the weather has been... well... reasonable the past week, so I got up early and headed more than an hour west to the Swift River, where I'd heard rumors on the blog of a western Mass. fishing guide that a few trout had been caught and soft hackles were the way to go.
First, I had to drive through Athol (if pronounced incorrectly, you will be the butt of many jokes).
I got to the Swift around 7:30 a.m., with the air temperature inching up slowly, but still only 35 degrees. It's a beautiful, small river known for its browns, rainbows and native brook trout. The water temp was in the low 40s, at best.
We've had several killing frosts so leaves are all off the trees. This part of Massachusetts is a lot more scenic in October until mid-November, but it was still great to be on the water.
I fished with a J.W. Young Beaudex (circa 1947) that had been converted to LHW by Ron (Bulldog) MacAlpin a couple years ago. He did a great job and the reel is a sweetheart to use. I paired it with an equally sweet Orvis Far & Fine early graphite rod, 5-weight and 7'9". It's one of the best-kept secrets among early Orvises.
Using an olive soft hackle fly tied by ORCA member Robert Veatch (thank you, Robert!), I landed this beauty, which I quickly photo'd and released. Gotta love those cold-water colors.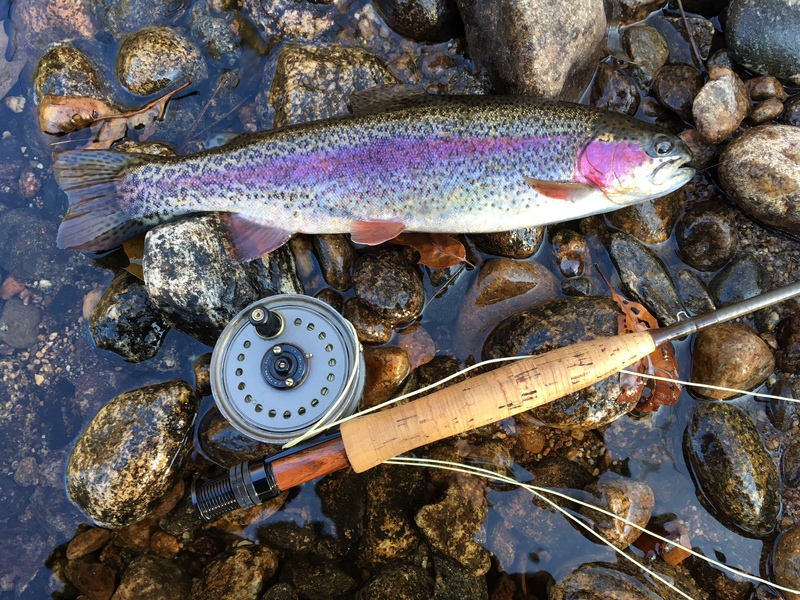 Anyway, it's not an exciting story about fly fishing in exotic lands, but it was my first December trout in Massachusetts, and a great time on the water. The thermometer in my car said it was 45 degrees by the time I left just before noon. It did take a while for my feet to thaw out, though. Summer waders aren't made for winter wading.