Posting a number of photos from activities today, for your viewing pleasure.
Also, some news: The 2017 convention is planned for Sept. 6-10 in Branson, Mo. Slightly different dates than you might have heard yesterday.
Casting contest winners today: We had a tie between Bill Burke and Dennis McNulty. Dennis also won Thursday's fishing contest.
Roger Schulz was the lucky (?) winner of the ugly reel contest. Oddly enough, there was only one pathetically ugly reel to toss so we took turns and Roger came out victorious, after a toss-off (toss-up?) with Curry Gayle. Curry tried to throw the match at the end with a toss of about 4 feet, but in a re-do, he successfully landed the reel further from the hoop than Roger did, so Roger won.
Also, ORCA President Betty Barr, our initial life member, by donating $1,000, announced four more folks have stepped up with similar donations to boost the club and obtain lifetime memberships. They are: Henry Caldwell, Dennis McNulty, Tom Greene and an anonymous donor. A huge thank you went up from the group at tonight's annual dinner.
And now, for some photos:
Betty giving members updates at this morning's "breakfast with the board."
Bill Hoerter, giving a seminar on what he terms "metal side-disk reels," with many examples shown behind him.
Other seminar presenters today were Craig Barber (who gave two) and Roger Schulz.
Curry Gayle, right, talking shop with ORCA members between seminars.
National tournament casting veteran Bill Burke, left, talks reels with Henry Caldwell, the newest ORCA board member, at Friday morning antique tackle casting competition.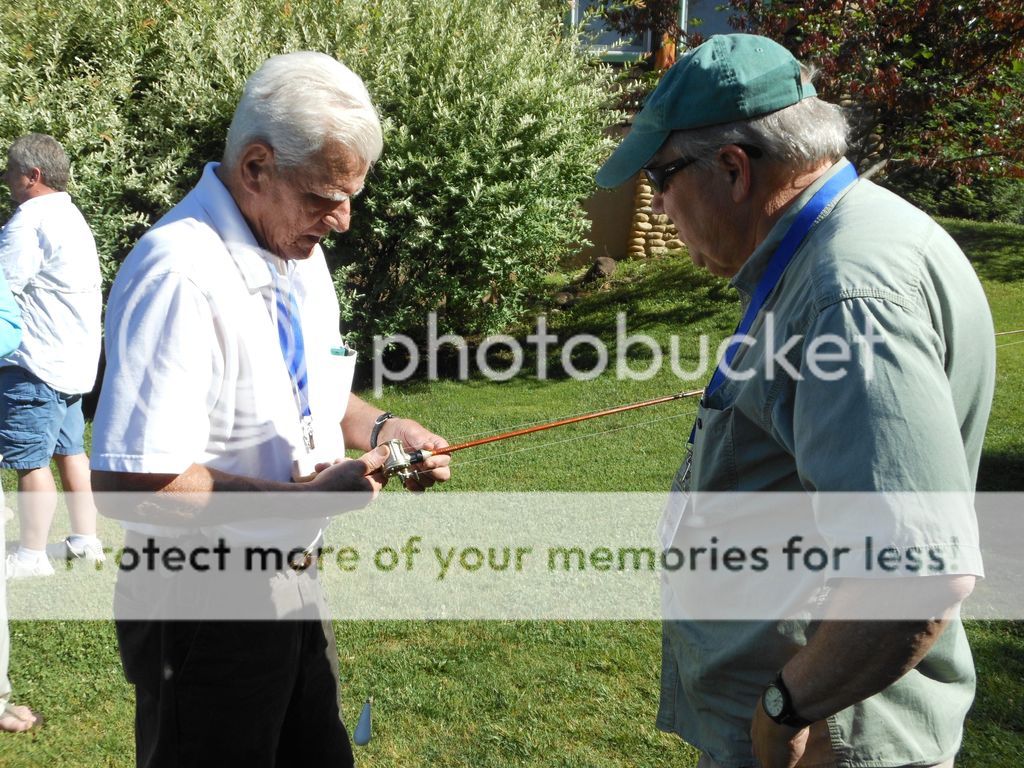 Yes, at least one casting outfit seemed out of place Friday morning. Yes, I know you're puzzled. It was that glow-in-the-dark Zebco rig on the right, which was a gag.
Here's some more serious gear used in the casting competition, including a nice Meek No. 3 with tournament casting handle
Roger Schulz, showing his winning form, in the Stu Lawson Memorial Ugly Reel Toss.
And Curry showing his "I am so happy not to win this" form in the ugly reel toss.
Lulu Edwards tried her hand in the toss.
And Patti Carey gave it the old college try.