I always thought when a youth in the Midwest, that I would end up in Oregon, trapping beaver and doing other outdoorsy stuff when I got older. But after 50+ years,I found the only spot I had been in that corner of the world was a stopover at Seattle airport! So, with the help of friends, rental car, and Google maps, I recently set off to remedy that, taking advantage of a trail of ORCAns on the way. After flying into Portland, I rented a car and headed across the Columbia River (you gotta see it if you haven't) to Vancouver to visit the Monty-Man, Rex Eads. There is little, if anything Montague-related that Rex doesn't own or know about! Any help you need, Rex is your guy...heavy on the rods, you will note, but lots of reels and paperwork to go with it!
Next day, I headed north to Olympia to visit with Tim Gelinas, an ORCAn that owns and manufactures Farlex reels...just fantastic machines of his own design that are specialized for Spey casting, but is also working on unique design of trout reels as well. I had never met Tim and wife, Donna, but they welcomed me in, fed me, and Tim gave much advice of machining, which I sorely need!
Then it was back to Lowell, Oregon, for a visit with Dan Brock. Dan and wife Kelly also welcomed me in after a 4-hour adventure with driving amongst the semis in pouring rain. It was such a trip wandering through their collections. You usually think of Zane Gray when you think of Dan, but I was more interested in their massive collection of fly reels, bottles and fishing ephemera that lines every corner of the house. And Dan is also Mr Creel, with the expected collection made by others but also exquisite creels and other leather work he has personally produced...what an artist!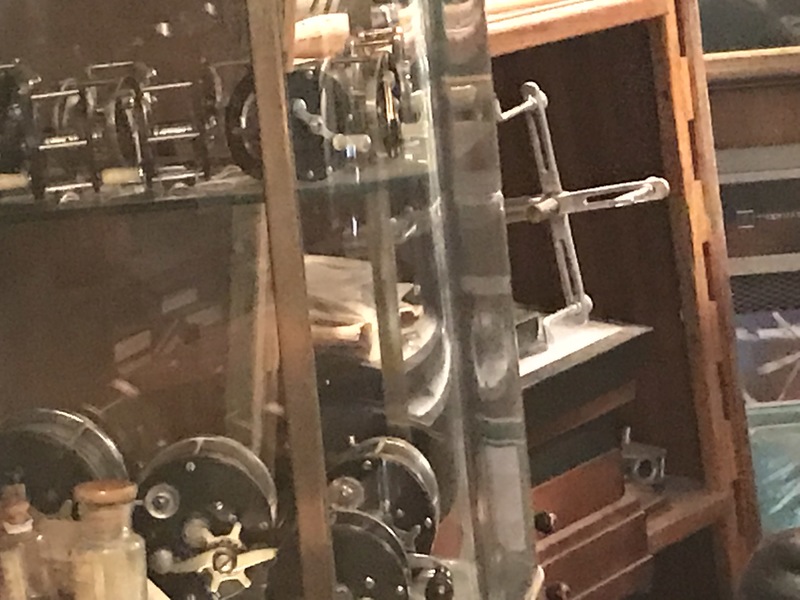 The next day, it was over the mountains to Bend, Oregon for a few days visit with Ward and JeanTonsfeldt . Ward also does leatherwork and has a wonderful collection of creels, flies and fly boxes. He and Jean know the whole area as if the county was their back yard. Adventures included both fishing and mushroom hunting, with the latter a most productive outing. We made it home with about 35 lbs of chanterelles as well as a "cauliflower" mushroom that might have bit me if Ward hadn't happened along to see it. I was so busy looking at the ground that I walked right past it!
We also got out fishing, but unfortunately, the catching part was lacking. Regardless, it was great to get out on the lake and try some nymphing techniques with Ward and friend Darrell.
I took the long way back to Portland via the Colombian Gorge...just beautiful...seems like everywhere some stream entered into the main river, the area was thick with fishing boats...I assume mooching for salmon...maybe i'll Get to try that the next trip up...and there definitely will be a next trip!