In 1934 Arthur Kovalovsky applied for a patent for new new, top of the line, big game fishing reel. This reel was made entirely of stainless steel and featured a lever control drag. Over the course of a couple of years this reel evolved into the "Zane Grey" model rim control lever drag reel. This reel featured a unique reel seat that secured the reel to the rod like nothing else before it or since. First you lined up the hole in the reel seat and set the reel on at a 45 degree angle to the rod. Next you turned the reel so that the grooves in the flat foot slid under the two raised round "T" posts and locked into place on the reel foot. Once the reel was in alignment with the rod you flipped a lever to lock it in place. Attached to the front and rear pillars were two rod braces that would then slide over spring hinged clips and snap into place securing the reel firmly onto the rod.
Below is the only example of a Kovalovsky stainless steel, patent model,rim control reel that has been found to date. This massive 16/0 size reel is shown with its original rod complete with locking reel seat.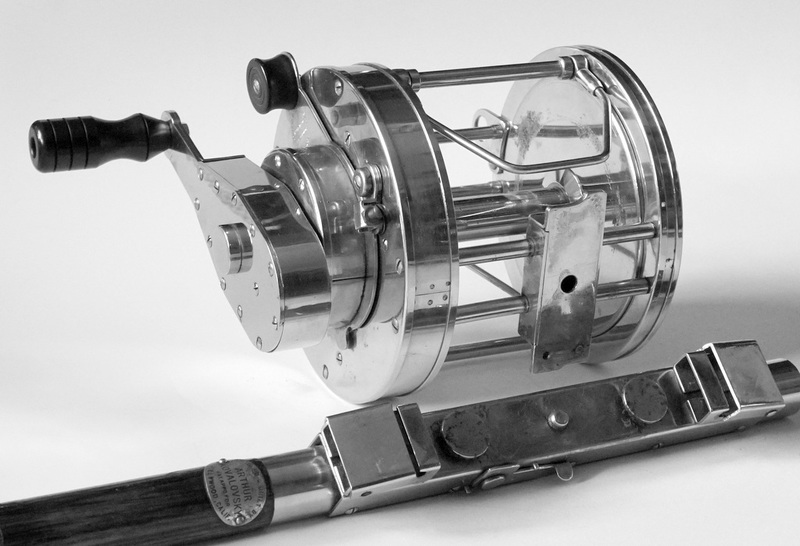 The hole in the reel foot lines up with the hole on the reel seat.
The reel is put on at a 45 degree angle to the rod
The reel is then turned until the grooves in the foot lock in place under the two round top "T" posts.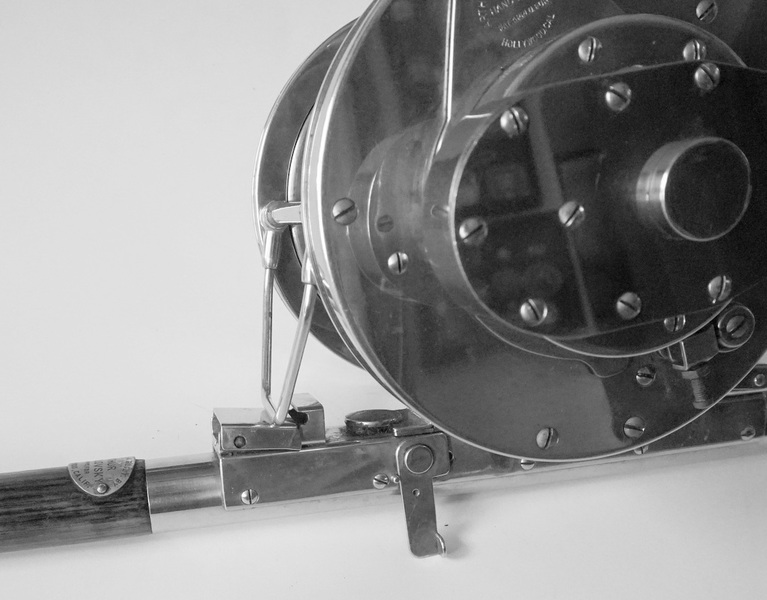 The rod braces attached to the pillars then lock into place into the spring clips.
Looking down at the reel locked into its reel seat with the rod braces in their clips.
The reel locked onto the rod, notice the lever under the reel seat that keeps the reel from turning sideways.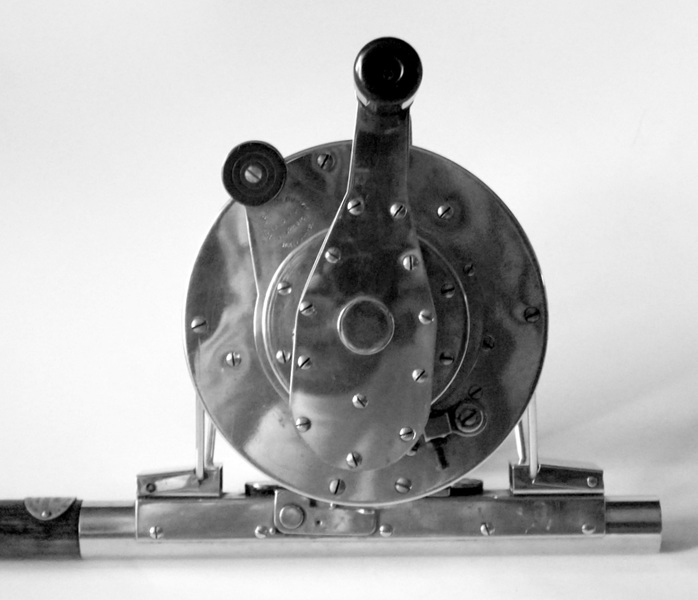 The Kovalovsky reel fits like a glove on it custom built Kovalovsky reel seat.
The Kovalovsky patent model 16/0 Rim Control reel on its custom rod with Kovalovsky roller guides and tip.
Patent drawing for the Kovalovsky rim control reel and its special locking rod and reel seat combination.
Photos of the Kovalovsky reel in use - Location and angler unknown - Date 1936.