WELCOME TO OUR HOUSE! -SEAREEL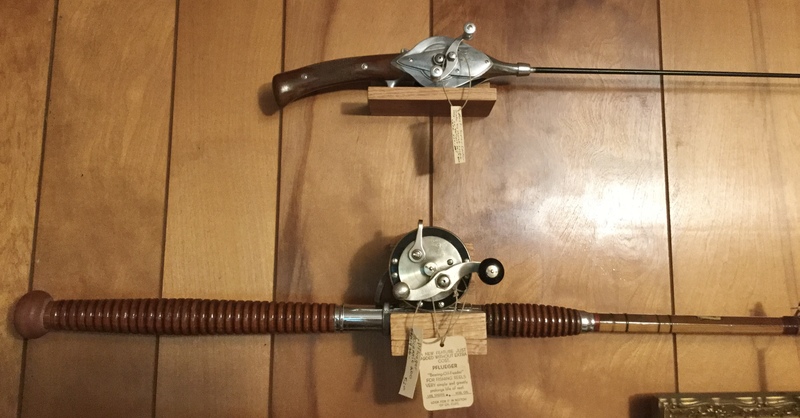 Top: Edwin Hurst Super Caster – Made by Hurst Lock & Mfg. Co. – Detroit Michigan

Bottom (Reel): Pflueger Oceanic 200yd. - Late 1930s

Bottom (Rod): This Horrocks Ibbotson rod, has "best by test" listed on its double diamond decal which is an indication that it was made between 1934-1939. It also has double eyes.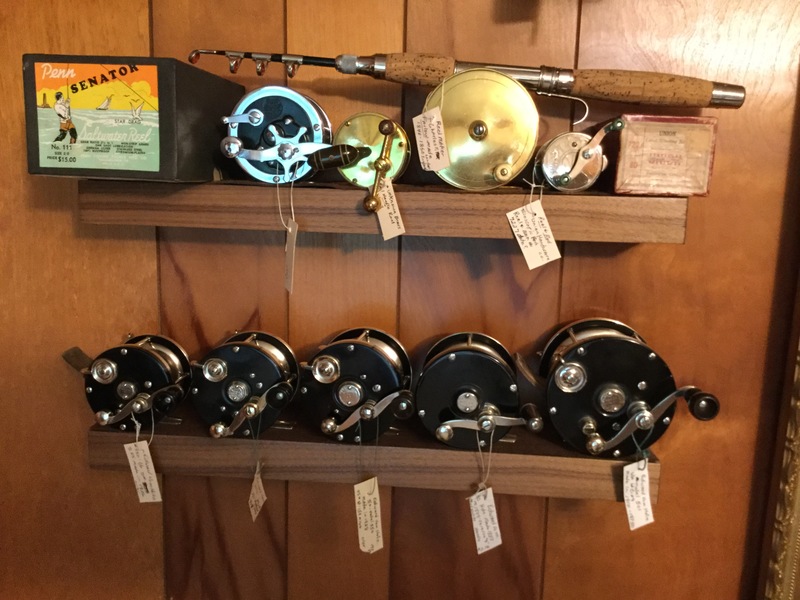 (Left box & reel): Penn Senator Model #111 – 2/0 | The black box uniquely has the "Senator" label on a slant which is a helpful indication of a date between 1946-1949. The Original Purchase Price is $15.00 and it does not have any part numbers on the reel which also helps us narrow down the time period of the reel.

(Third from left): Ball Handle Brass Reel – manufacturer unknown

(Fourth from left): Charles Farlow Brass Reel made in London England. Farlow started his company in 1840 with only the logo of an image of a salmon stamped on the bottom of the reel foot. Later, Farlow put his name on the face of the reel. The one pictured has only the salmon logo.

(Second from right): Union Hardware Company Maroon Chimney Box with Reel & Telescopic Rod (resting on reels) – can't find date
Bottom Left Row (left to right):

(First from left): Edward Vom Hofe model 550 – 1/0 made in 1926 | original purchase price: unknown

(Second from left): Edward Vom Hofe model 550 – 2/0 made in 1919 | original purchase price: $45.00

(Third from left): Edward Vom Hofe model 550 – 3/0 made in 1928 | original purchase price: $65.00

(Fourth from left): Edward Vom Hofe – model 501 - 6/0. This reel does not have any marking on it's foot, it has a reverse "S-handle", and the oil cap has a star around the "K" of the word "Maker". ( I don't have any concrete evidence on the exact date of this reel; however, from what I understand the star came out in 1883 and I think, but I not exactly sure, the reverse "S handle" was discontinued around 1889.)
(last on left): Edward Vom Hofe model 501 – 6/0 made in 1910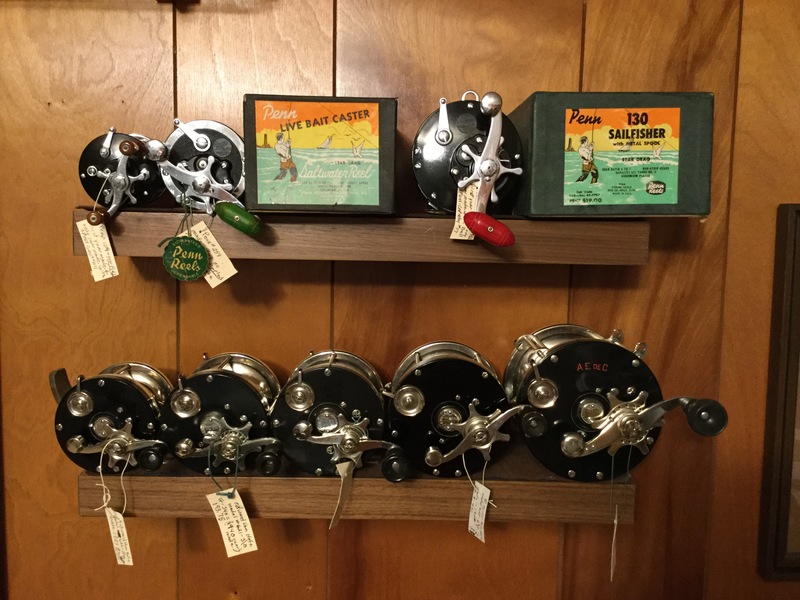 (Right side of picture on wall-top shelf–left to right): 1942 Penn 109 | This is the first year they made the reel and the only year it was made with spool control.

(Second from left-reel & box): 1949 Penn #259 | The black box has the "Live Bait Caster" logo on a slant | No part numbers | Stippled finish on the head plate | Original purchase price $12.50

(Third from left-reel & box): 1952 Penn Model 130 | This was the first year Penn came out with this model | This was the only year made with a bell spool | Original purchase price $19.00


(Bottom right shelf–left to right):

Edward Vom Hofe Model 621: Size | Year | Original Purchase Price

2/0 1925 $65.00

3/0 1940 $87.50

4/0 1918 $50.00

6/0 1926 N/A

9/0 1933 $110.00
I made and installed all the shelves and rod holders. Thanks for viewing and happy fishing!!

- Seareel