Picked up a Coxe 25-2. I have a 10 and a 60 and both are very nice casters so I was hoping for the same with this one.
Paid a bit much for it, as I didn't want to mess around. And... as old reels would have it, I had to do some messing around.
It was cosmetically VG but, typically, stiff and dry. Disassembly was a bit different from the 10 and 60, although all three have the "new" "cross bolt" spool axle. No exterior screws on the 25, however, so the plates had to be pried off. Since the reel had apparently not been opened for some time, this was a little tough to do. The face-plate required I reinsert the axle and give it a couple pops with a cushioned hammer; A little scary considering the Bakelite plate. I discovered, however, a gap at the inside rim in front of the reel in line with the level-wind (for the LW pinion gear to clear). This is the best place to slip a knife blade between the plate and frame if needed, to lift the plate, exposing the gap, which will allow a screwdriver to be inserted to pry up the plate.
Not a whole lot of parts in these Coxe reels. Pretty cool I think. But, just like in my 10 and 60, the tiny spool pinion gear is loose! So, despite the reel made for easy take-down, this little gear is prone to dropping out wherever you happen to be. So beware!
The pawl was a puzzle until I noticed the opening in the worm gear "line-guard"/shroud, that allows the pawl to drop out. (The care manual for the (original) 10 and 15, available through the ORCA Reel Research page
, describes the same LW disassembly.)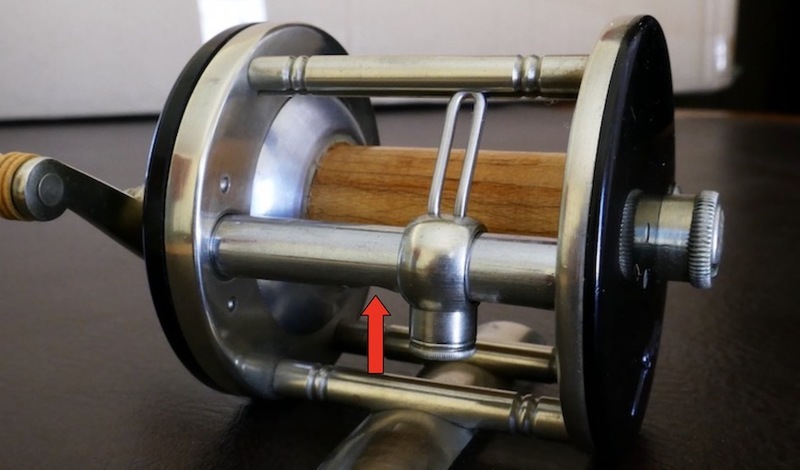 There is an extra pawl located under a screw-cap inside the faceplate that takes a wide very thin-blade screwdriver. I didn't have one to fit, and it was immovable without risking chipping the slot. There is however a knurled rim on the screw-cap and a little Liquid Wrench and a mini Channel-Lock plier —cushioned— got it open. I re-oiled the fiber disc beneath the spare pawl as it was bone dry.
Did my usual complete tear-down, de-greasing to bare metal with mineral spirits, brushes, and steel-wool. Then burnishing of the important internals with 0000 steel-wool.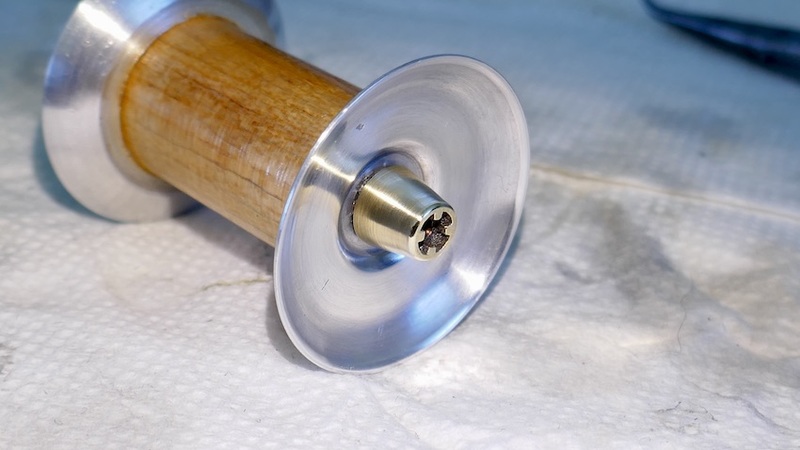 I steel-wooled on a damp paper towel to pick up the steel-wool fibers; Don't want them getting into the internals. Then everything was washed with Dawn soap then rinsed and dried.
I have come to use 4 different lubes in my reels: Liquid Wrench (super-thin); Ardent Reel Butter (thin); Zoom Turbo Oil (viscous); and Super Lube grease. In this case, I used the Liquid Wrench to loosen up a stiff (but not shrunken) handle knob. The Ardent on the spool axle and the LW mechanism. The Zoom on the spool shaft ends (for its tenacity). And a small amount grease on the gear teeth, just enough to make them glisten. I also decided to use grease on the free-spool mechanism because it's manually engaged and I was concerned it might be too loose with a thin oil.
I also decided to polish all the nickel-silver. The reel did have a nice even antique-y patina, but I decided to go ahead and shine it up. It's not a rare reel, nor will be displayed for historical purposes. It will be fished, so I'd like it to be as close to new performing, and appearing, as possible. I'd like someone to ask what kind of reel that is. And I'll say, "It's a 1946 Coxe 25!"
I put 50yrds of 12lb Mason over backing on and took it out in the meadow for a spin. And it was horribly noisy! It shuddered and squealed horribly! I fiddled with it, (careful not lose the spool pinion!) and ended up frustrated, sad, and a bit annoyed at the seller who'd described it as 9+ condition. A crack in the axle knob had me concerned a previous user had overtightened the axle, possibly in frustration.
But, I opened the reel back up again, inside at the bench, and realized I'd simply failed to lube the axle and tail-side shaft end!
Back outside it cast very nicely, with just a quiet whir. Phew! And...Yippeee!!
I've had a number of people tell me that these old reels are not good casters. But I've found that nearly all the reels I've worked with so far I've been able to get to cast very well. If there's a trick it's in the cleaning, burnishing, and lubing. These are nicely made little machines, and they work if given the chance.
The free-spool mechanism on this 25-2 operates effortlessly: Just cast, and retrieve, and cast again,... . However, when I finally get to fish with it, I'll heed Bill Sonnett's advice: To keep my thumb where it belongs! Owing to the free-wheeling free-spool apparatus on these reels.