Our Secretary Treasure, Roger Schulz checked in with a neat little Conroy reel made by Frederick Malleson. It is supposed to be a 2:1 multiplying fly reel, geared so that the crank resides in the center as with a single action fly reel, and gears are set to maintain retrieval of line under the spool. Trouble was that Roger's reel was acting as a single action 1:1 geared fly reel. So, the mission was figure out why and see if the problem could be resolved.
Here is an ad for the reel, touting it's features and highlighting that "minute hand" clicker control found on many Malleson reels:
Roger's reel showed its age and had lost most of its plating, but was still clearly badged for Conroy and the outside was intact:
Taking a look at the gear stack revealed that the critical drive gear was missing. However, the drive shaft was totally frozen up in the spool so that the spool still turned:
Here is a video of my Malleson with similar gears so you can see how it should behave:
https://www.dropbox.com/s/oitittgatazak ... 2.MOV?dl=0
So, I put some Kroil on the drive shaft, then heated the spool with a torch. A few good raps with a plastic hammer on the drive shaft liberated it from the spool:
Give the degraded condition of the end of the old drive shaft, it was necessary to turn a new steel shaft, making the faceplate end compatible with the handle and the back plate side suitable to wed to a drive gear. I squared off the latter end similar to how the shaft in my Malleson as well as drilled and tapped that end to receive a 2-56 retaining screw: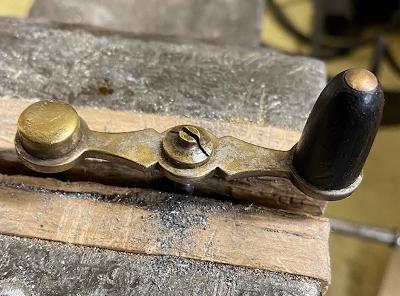 After riffling through my stash of gears, I found only one candidate that might work. It was an aluminum gear, rather than brass and the center hole was too large, but I threaded and plugged it with brass,
fixed in place with JB Weld@. I drilled a hole in the center, then squared it off to fit on the new drive shaft:
Given the difficulty of getting gears to mesh properly, I had primal doubts this was going to work....but amazingly, it did, and yielded a 2:1 gear ratio on to of that! I doubt I'll ever get that lucky again...twas stupid luck to get that gear to mesh with Malleson's!
https://www.dropbox.com/s/uvs2p57crikrs ... 5.MOV?dl=0