There is currently not much information in ORCA on the subject of cleaning of magnesium spools and reel parts. A search of this site turned up very little, and our new
Third Edition of Reel Restoration
(available on the ORCA store) does not have any information on this topic. So I am opening this topic for your review and comment. I hope that some of the engineering specialists may have more information.
I edited this post on June 24, 2022 to included updated experience and information. For a complete detailed reference to magnesium parts maintenance and cleaning, refer to
Handbook: Aircraft Maintenance Cleaning
- United States. Navy Department. Bureau of Aeronautics · 1956 - available on google books.
Magnesium spools began to appear in special casting tournament events in the 1950's, and were de rigueur in winning a tournament in the late 60s and into the current period. ABU 2100 made factory magnesium spools, but most spools were made by smaller machine shops for use in the unrestricted events. The magnesium spools will corrode readily if left exposed and uncoated. The oxide crystals will appear, and the thin spools may become easily pitted if left untreated.
Spools with moderate to heavy corrosion: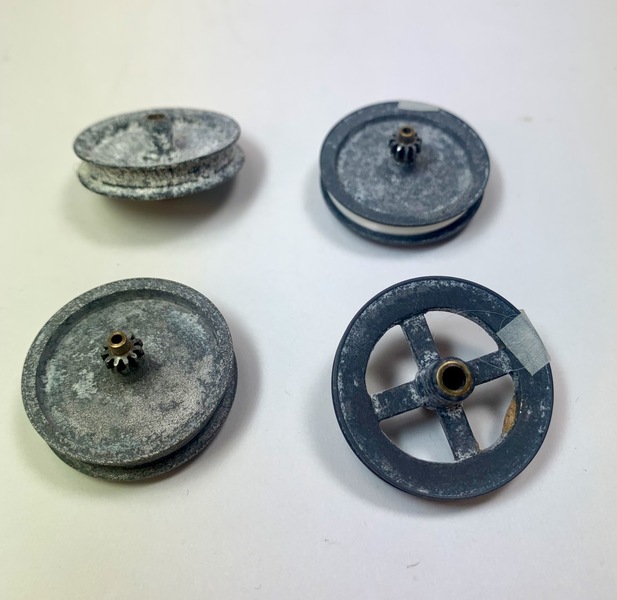 The steps I concluded with consisted of combining material from the cited aircraft maintenance and information from some tournament casters.
1. Preclean with mineral spirits to remove any white oxide crystals and any oils. Use a toothbrush to scrub if needed.
2. The part will likely still have a dark grey coat of oxide as well as small bumps of oxide. This is best removed by mechanical means, but can also be carefully treated with Chromic Acid for very short periods of time. I also was successful with using Acetic Acid at 10% dilution.
3. Mask up with N-95 or equivalent because the Magnesium dust can be toxic and harmful if inhaled.
4. Use 000 steel wool to remove some of the remaining surface grit that is oxidized magnesium. When the oxide is removed, the part will turn light gray, about the color of aluminum.
5. If you have a media blaster that can be regulated carefully so as not to damage the small parts, you can use glass, plastic or walnut bead polishers, but caution is in order here.
6. Clean in denatured alcohol to remove any of your cleaning solutions or dust.
7. Finally, you have to coat with something to prevent oxidation. Aircraft engineers and slot car hobbyists recommend Boeshield T-9 spray which will provide a thin wax coating when dry that will protect the spool surface. Boeshield was invented at Boeing for use on aircraft parts including magnesium alloys. Alternatively, you can use a shellac or paint or other coating. It seems to me you should be careful to not impact the performance of the spool here.
Here is one spool cleaned with mineral spirits and a 15% acetic acid bath of 1 min. I did not have the recommended chromic acid solution, it may have turned out better.
Here is a spool I tried to clean with steel wool for around 45 mins. I could not get it uniform. I think that to be practical, I need some kind of media cleaner machine.
Here is the spool on a Lew Perkins unrestricted tournament reel (model 2):
If you have other tips or technical info to add, please reply. Your comments will help me and others, and may be added to our next handbook addition.