In 1926, Horton was selling these Kingfisher lines after acquiring the business from E.J. Martin's Sons. According to the late, great line historian, John Etchieson, Horton had purchased the business from Martin's Sons in December of 1919. Link:
https://finandflame.com/tag/kingfisher/
Below is the September 15, 1926 price list and the offerings from that catalog. It would be very cool to collect these 12, but there were obviously more since the earlier Moss Green Enamel line I just obtained (above) is not in this lineup.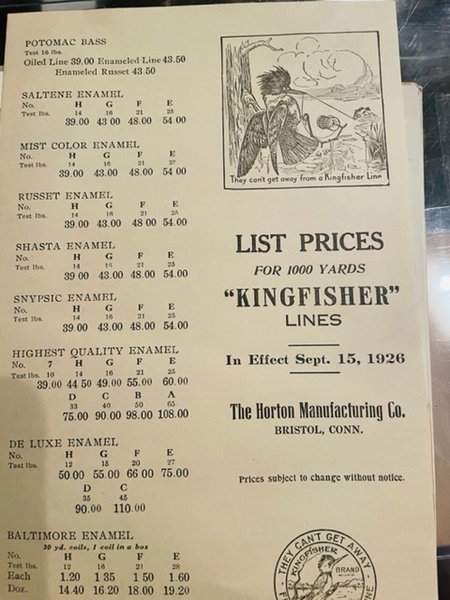 Mike N.
ORCA Founder, 1990
Star Board Poster
Posts: 8465
Joined: Mon Sep 22, 2003 2:44 pm
Very nice add, Mike! It's really striking how much effort was put into decals for line spools. They became art objects, which is impressive, given they were likely considered disposable after most fishermen pulled off the line onto their reels.
ORCA member since 1999
Honorary Life Member

Specializing in saltwater reels...and fly reels...and oh, yeah, kentucky style reels.....and those tiny little RP reels.....oh, heck...i collect fishing reels!...and fly rods....and lures