This story revolves around an ordinary, and well-used, Arbogast Jitterbug that my paternal grandfather had bought sometime in the late 40's. I call him "my grandfather" rather than "Grandpa" bc I never knew him. He was killed in a car wreck in 1955, when my dad was 22 yrs old and just returning home from the Navy. "You would have really liked him", my Dad would say of him.
The two fished together, spending part of their summers at a cottage on Black Lake in northern NYS. My grandfather, his brothers (my dad's uncles), and a cadre of neighbors were all there for the same reason: the bass fishing. Dad's recollections from that time include he and his dad collecting "bass bugs" (dragonfly nymphs) for bait from the shoreline weed beds, and hunting up frogs legs with a .22 rifle from a small skiff, my grandfather hand pushing the skiff through the shallows.
These were fond memories for my dad, and his interest in fishing peaked while he was away on his stint with the Navy. One letter he sent to his dad included a wonderful illustration (my dad went on to become a professional illustrator) of favorite bass lures. I ended up with that illustration at one point, years ago. Sadly, it appears to have been lost. Still hoping it'll turn up in a box somewhere.
Black Lake today is still a great bass fishery, however, my dad and I never did make that run together. This is surprising, thinking back on it, as Dad and I fished together often. We even made a few runs to the St Lawrence River, not all that far from Black Lake.
My Dad on the St. Lawrence 1980's: The old school eye-hold he's using on that pike was apparently still in vogue then. We did keep it, and some smallies and perch, on that trip. The photo also shows a Zebco 888 and heavy action glass rod. I don't know where that rod ended up. The reel is now filled with 130# dacron and has served as an effective anchor winch on my float tube for over 10yrs.
I remember, from sometime in the early 70's, some of my grandfather's tackle down in our basement collecting dust and mildew. There was a brown aluminum double-sided tackle box with cork lined trays; Kennedy, or JC Higgins (considering quality/cost of the other gear)? Alongside were propped a couple of telescoping steel "bait rods" and a single translucent solid fiberglass "bass rod".
I remember one reel, and have since been able to identify it by the fishing scene stamped into the reel's side-plates, and the jeweled caps —a 1940's Bronson Mercury. When I saw one much later -after I'd caught the direct-drive bug- I recognized it immediately: my grandfather's bass reel! Apparently, that stamped fishing scene etched its way into my long term memory.
Mercury Sideplate:
1940's Mercury (w/jewelled end caps):
1950's Mercury (w/metal end caps):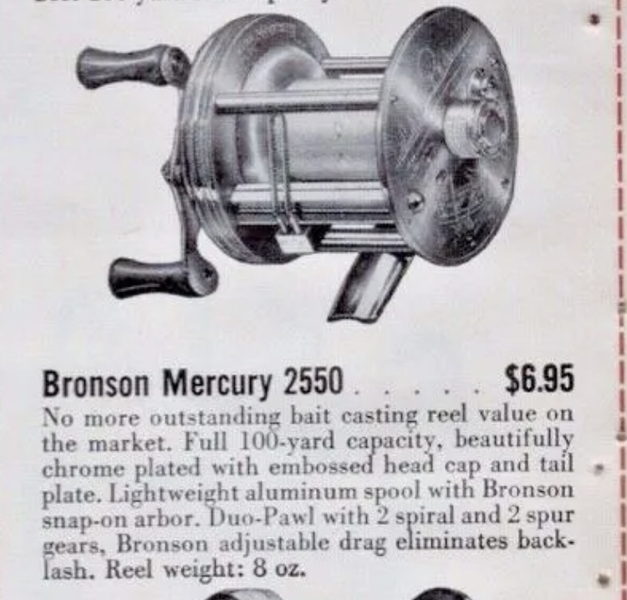 Apart from the musty scent, and some sinkers and snelled hooks, I remember little else of my grandfather's tackle box's other contents. Possibly, there wasn't much left in the box when my Dad acquired it. I'm now in possession of just three of my grandfather's lures: a Paw Paw Bass Seeker (plastic, late 40's) in Yellow Shore Minnow color; a Heddon jointed River Runt Spook Floater (plastic, presumably late 40's as well) in "Pike Scale" color; and the Jitterbug (plastic, and dating —by hardware— as early as 1947), in Green/Silver Scale/White Belly.
1940's Jitterbug Ad: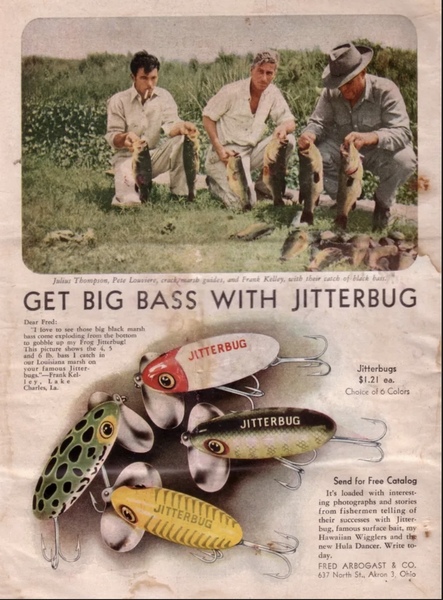 Grandfather's Jitterbug Hardware: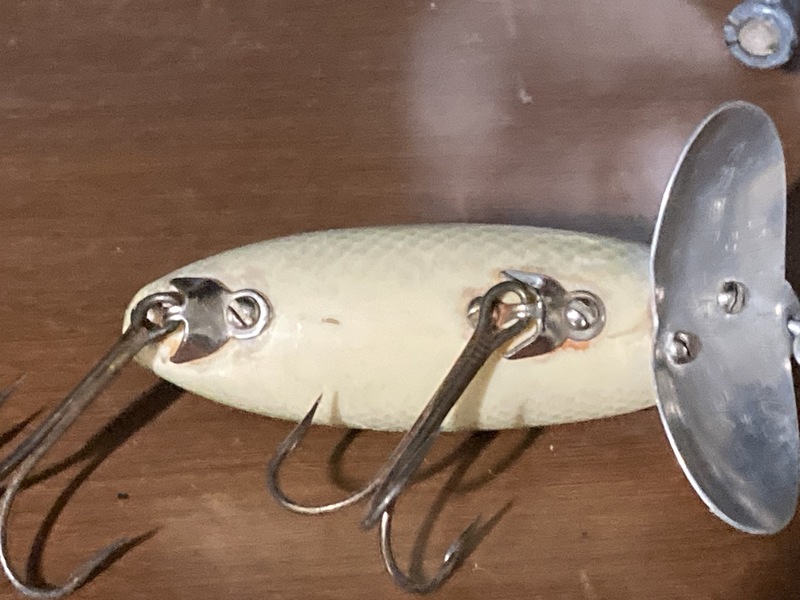 Jitterbug Hardware: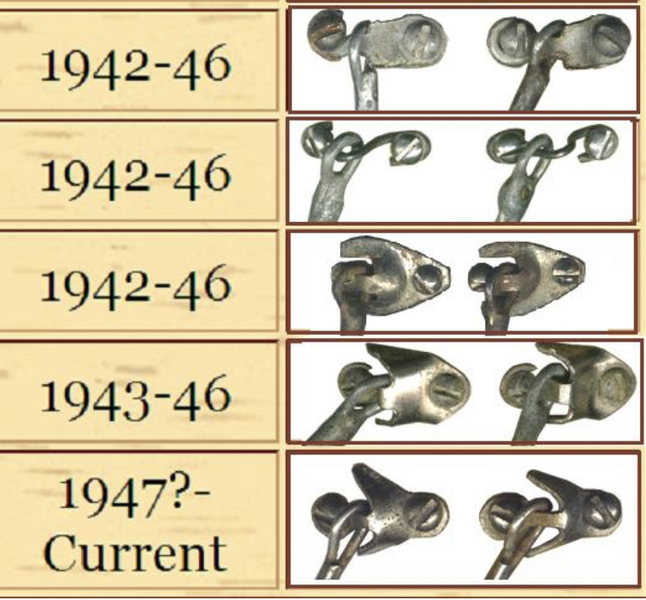 It was that Jitterbug that created some indelible memories, that continued to accrue over four generations of Roberts' —over 70 years time. And they're not likely over yet; Lures are meant to be fished. However, this one is thrown where it will be safe from too much serious trouble. I do have other Jitterbugs to throw.
Me with my Grandfather's Jitterbug (1980's):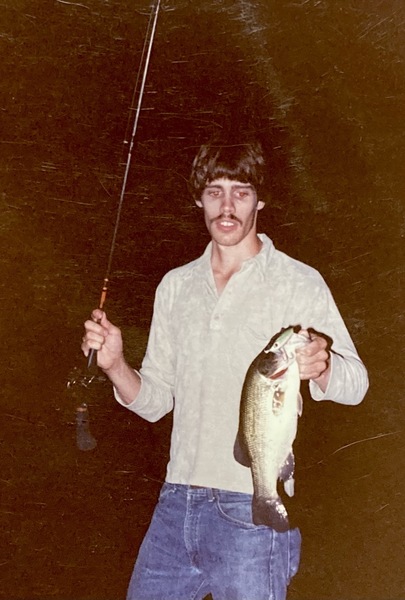 My first memory of that Jitterbug came about when I was very young, actually on my very first fishing trip at 5yrs of age, to the Racquet River in northern NYS. There I caught my very first fish, an event that woke something in me, a sense of awe that hasn't left me to this day. My introduction to that Jitterbug coincided with my first memory of bass, two that Dad brought in one evening, just before bedtime. Those bass left an impression on me as well, because I'd not seen fish so big! They were so much larger than my prize rock bass.
Another memory of that Jitterbug came a few years later —I would have been 10yrs old—on a camping trip to Cranberry Lake in the Adirondack Mountains. On a pitch black night, my brother and I walked the shoreline of that big lake with Dad, he toting his father's glass casting rod. I think we were using Zebco spincast reels by then, my dad using a 404 I believe. We couldn't see Dad's Jitterbug out there in the blackness, but could clearly hear its mesmerizing "plop plop plop plop", pause… "plop plop plop plop", pause. I think that sound is so mesmerizing bc of what often comes next. I remember that resounding splash, my dad reacting, his rod arched, attached to something that sounded very large, too large to be a fish, the sound certainly amplified in the darkness. Cranberry is a big, bouldered, driftwood strewn, smallmouth lake and the one dad was affixed to was not small and crashed the water's surface repeatedly. I remember Dad braced against the strain on the rod. Almost as suddenly as the strike, the bass was gone, the hook thrown, but those sounds that night left an indelible impression. That Jitterbug held some kind of magic.
Recently, my Dad, at 89 years, came to live with us. While helping him go through his things, we came upon a yellowed envelope containing some old B&W photos dating from the 1940's. Some were from their summers at Black Lake. So I recently turned over a shelf in my office to some of these memories that includes my grandfather's lures, a pre-1950 Bronson Mercury I picked up for the purpose, and a rock painting my Dad made and gave me for Christmas in 1973, depicting a largemouth leaping clear of the water to pounce on "grandfather's Jitterbug"; I believe it represents a strike that he witnessed once some years before. He doesn't remember that strike now, along with many other things, but, somehow, I do. Almost as if I''d been there.
My Grandfather in his boat on Black Lake:
Black Lake Images from my Dad's youth in the 1940's: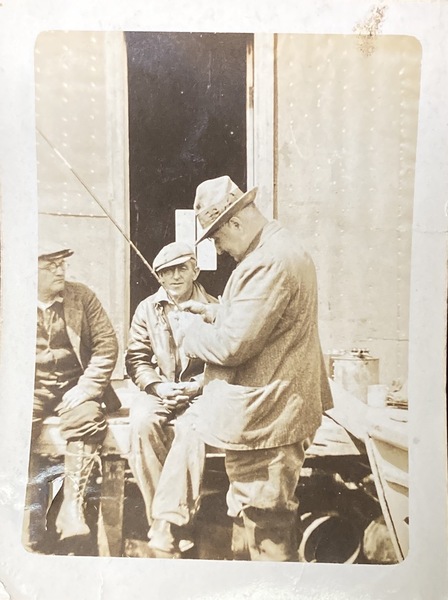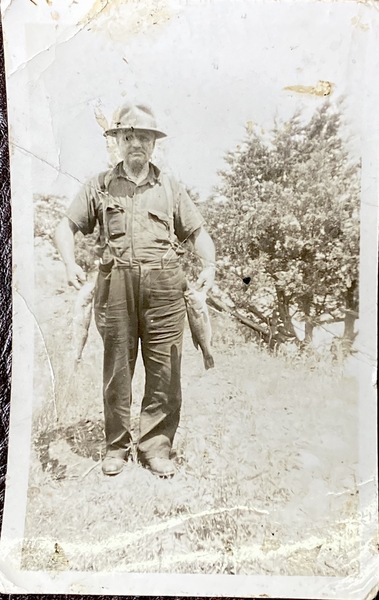 Shelf display: