Finally got some fishing in as the ice has broken on the pond. I've been pleased, and surprised, that my light tackle direct-drives have been able to throw weights as light as 1/8oz, to about 30-35ft. But, I've found 3/16oz to be a better suited minimum for fishing. ElazTech grubs ("Ned Rig", after Ned Kehde) are heavy, so paired with a 1/16oz head they hit 3/16oz. And being buoyant, they can be fished at a slow crawl. A clip-on overhead spinner adds a little weight too, and slows horizontal retrieve a bit more as well. The result has been my first DD-caught catches of the year.
This particular reel is a customized, VHT wrinkle painted, Langley Lurecast. Handle knobs get a wrap of hockey tape to reduce slippage.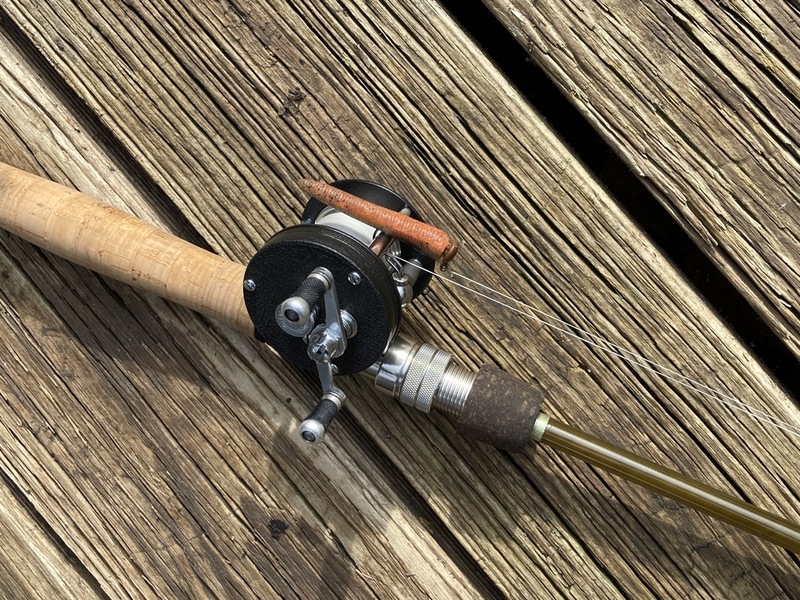 These ice-out fish have remained deep and beyond effective reach from shore, but following an unseasonable 60F late February day, I managed three small bass, to 12-1/2", that came within effective range of the shoreline. Not that the reel can't cast far enough to potentially reach deeper fish, but detecting takes that far out, and deep, is tough.
The rig used was a Coxe 95C, 6-1/2ft CTS glass blanked "faux vintage" glass rod I built, 14lb Fireline, 6lb fluorocarbon top-shot, and 3/16oz (total) "Ned Rig" grub.
Our (new to us) pond is in need of attention, having a stunting problem, having been unmanaged for decades. But there are always a few individuals that manage to break the barrier. One, I saw 3 times during last year's spawn, looked to go 19, possibly 20inches. Well, yesterday, I caught her from my float tube! The day started with a coating of skim ice that mostly melted off by midday. She took a Ned Rig jig-n-grub 7ft down off the shoreline shelf I'd caught the others.
Oh! This is one of the big ones!"

So, here she is, all 20" of her.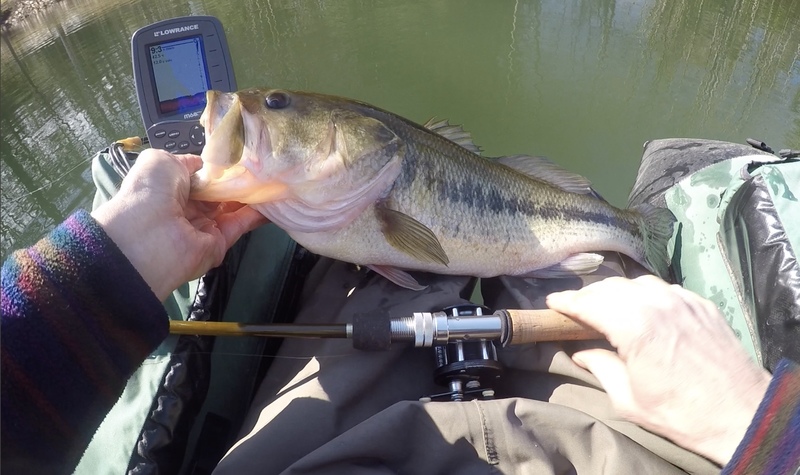 I'm sure I'll see her again sometime in the future.