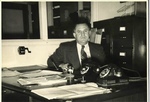 David Lucas found some great old Shakespeare photos at the MSU museum.
This shot is Opie Davis, sales manager. Can anyone I.D. that crazy looking reel mounted to the wall by his desk?
David and his lovely wife Ann visited our home on Sunday and we spent some time looking at items in my collection and talking all things Shakespeare. It's always fun to meet and talk with other serious collectors and lovers of tackle history!